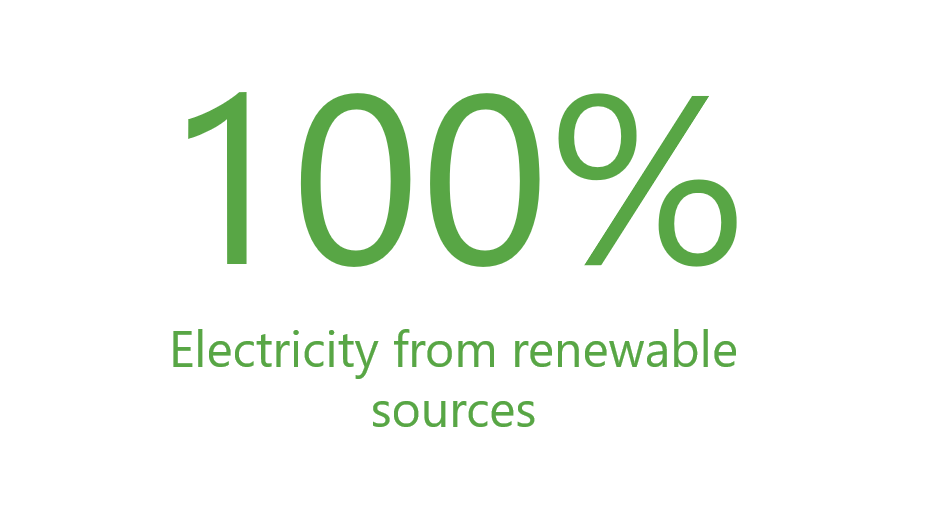 A major milestone in our commitment to climate protection was the conversion of all our sites worldwide – production facilities as well as offices – to electricity from renewable energy sources by 2020. We achieved this one year earlier, already in 2019, by converting our plants in Mexico and Nigeria, as well as the production site of our recently acquired Coppertone brand in Cleveland, Tennessee, USA, to green energy. 100% of all electricity consumed at Beiersdorf offices and production locations worldwide now originate from renewable sources such as solar energy, wind energy, and hydropower.
As well as purchasing 100% green electricity, we have installed photovoltaic Systems at several of our production and office sites, through which we cover part of our electrcity requirements ourselves. In the reporting year, these systems produced 3,219 MWh of electricity worldwide. Our production sites harbor potential for reducing energy-related emissions even further and increasing energy efficiency. The initiative "Sustainability in Manufacturing" was created in 2020 and builds among others on the minimum requirements laid out in our standard operating procedure for energy management: It includes all 17 production sites worldwide and is intended to support the achievement of targets in the areas of climate, waste, and water .
In Germany, Chile, Spain, and Poland, our production facilities are directly supplied with electricity from renewable energy sources. In all other countries, direct purchase is not yet or only partially possible due to local infrastructure restrictions; for these sites we acquire "International Renewable Energy Certificates" (I-RECs) when we buy electricity.